Posts for: August, 2017
By Carolyn Bronke Wind, DDS, PC
August 27, 2017
When you're among the top players in your field, you need every advantage to help you stay competitive: Not just the best equipment, but anything else that relieves pain and stress, and allows you to play better. For top-seeded Canadian tennis player Milos Raonic, that extra help came in a somewhat unexpected form: a custom made mouthguard that he wears on the court and off. "[It helps] to not grind my teeth while I play," said the 25-year-old up-and-coming ace. "It just causes stress and headaches sometimes."
Mouthguards are often worn by athletes engaged in sports that carry the risk of dental injury — such as basketball, football, hockey, and some two dozen others; wearing one is a great way to keep your teeth from being seriously injured. But Raonic's mouthguard isn't primarily for safety; it's actually designed to help him solve the problem of teeth grinding, or bruxism. This habitual behavior causes him to unconsciously tense up his jaw, potentially leading to problems with muscles and teeth.
Bruxism is a common issue that's often caused or aggravated by stress. You don't have to be a world-class athlete to suffer from this condition: Everyday anxieties can have the same effect. The behavior is often worsened when you consume stimulating substances, such as alcohol, tobacco, caffeine, and other drugs.
While bruxism affects thousands of people, some don't even suspect they have it. That's because it may occur at any time — even while you're asleep! The powerful jaw muscles that clench and grind teeth together can wear down tooth enamel, and damage both natural teeth and dental work. They can even cause loose teeth! What's more, a clenching and grinding habit can result in pain, headaches and muscle soreness… which can really put you off your game.
There are several ways to relieve the problem of bruxism. Stress reduction is one approach that works in some cases. When it's not enough, a custom made occlusal guard (also called a night guard or mouthguard) provided by our office can make a big difference. "When I don't sleep with it for a night," Raonic said "I can feel my jaw muscles just tense up the next day. I don't sense myself grinding but I can sort of feel that difference the next day."
 An occlusal guard is made from an exact model of your own mouth. It helps to keep your teeth in better alignment and prevent them from coming into contact, so they can't damage each other. It also protects your jaw joints from being stressed by excessive force. Plus, it's secure and comfortable to wear. "I wear it all the time other than when I'm eating, so I got used to it pretty quickly," said Raonic.
Teeth grinding can be a big problem — whether you put on your game face on the court… or at home. If you would like more information about bruxism, contact us or schedule an appointment for a consultation. You can learn more in the Dear Doctor magazine articles "Stress & Tooth Habits" and "When Children Grind Their Teeth."
By Carolyn Bronke Wind, DDS, PC
August 12, 2017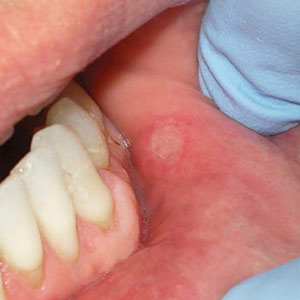 We've all had them — tiny sores that pop up seemingly out of nowhere under the tongue or the inside of the cheek. They're named aphthous ulcers, but are more commonly known as canker sores. For some people, they can be a recurring irritation.
Round with a yellow-gray center surrounded by reddened skin, aphthous ulcers seem to coincide with periods of anxiety or stress, or as a result of some minor trauma. Many people will feel a tingling or painful sensation a few hours or days before the ulcers appear. Once they appear they usually persist for a week to ten days before finally drying and healing. In the meantime they can be painful, especially while eating or drinking.
One form known as recurrent aphthous stomatitis (RAS) affects about a quarter of the population with outbreaks of multiple ulcers that occur regularly. RAS ulcers are usually one centimeter or more in size — the larger the sore the more painful they tend to be.
There are ways to ease the discomfort of an ulcer outbreak and help hasten their healing. A number of over-the-counter products can be used in minor cases to numb the area temporarily and cover it to facilitate healing. We can also apply steroids or inject other medications for more severe cases. You may also find curbing your eating of certain foods like tomato sauce, citrus or spicy dishes can help.
For the most part aphthous ulcers aren't dangerous. In some situations, though, you should seek dental or medical evaluation: a sore that doesn't heal within two weeks; increases in severity, frequency or duration of ulcers; or when you don't seem to ever be without an ulcer in your mouth. We may need to perform tests, including tissue biopsy, to make sure there aren't any underlying systemic conditions causing the ulcers.
More than likely, though, you'll only need relief from the aggravation caused by aphthous ulcers. Among the many remedies, there's one right for you.
If you would like more information on aphthous ulcers or other mouth sores, please contact us or schedule an appointment for a consultation. You can also learn more about this topic by reading the Dear Doctor magazine article "Mouth Sores."