Posts for: June, 2020
By Carolyn Bronke Wind, DDS, PC
June 20, 2020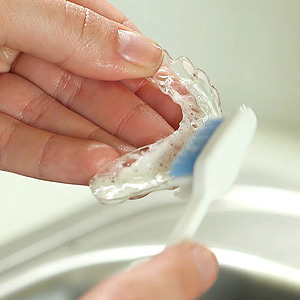 Millions of people wear some form of removable oral appliance. The range is pretty extensive, from orthodontic clear aligners and retainers to full or partial dentures. But while they may vary in purpose, they all require the same thing: regular cleaning and maintenance.
And there's a right way to care for them, and a wrong way. The right way ensures you'll get the most out of your appliance—the wrong way might drastically curtail their longevity. Here, then, are 4 things you should and shouldn't do to keep your appliance in tip top condition.
Clean it properly. Only use cleaning agents appropriate for an oral appliance's materials. That means avoiding the use of toothpaste—the abrasives in it won't harm tooth enamel, but they can scratch some appliance materials. Instead, use dish detergent, hand soap or a recommended cleaner with a little warm water. Also, use a different brush than your regular toothbrush.
Avoid hot water and bleach. Hot or boiling water and bleach kill bacteria, but they will also damage your appliance. Hot water can warp an appliance's soft plastic and alter its fit. Bleach can blanch plastic meant to mimic gum tissue, making them less attractive; even worse, it can break down appliance materials and make them less durable.
Protect your appliance. When you take out your appliance, be sure to store it high out of reach of curious pets or young children. And while cleaning dentures in particular, place a small towel in the sink—if they slip accidentally from your hand, there's less chance of damage if they fall on a soft towel rather than a hard sink basin.
Don't wear dentures 24/7. Dentures can accumulate bacterial plaque just like your teeth. This can increase your risk of an oral infection, as well as create unpleasant mouth odors. To minimize this, take your dentures out at night while you sleep. And be sure you're cleaning them daily by hand, soaking them in an appropriate solution or with an ultrasonic cleaner.
Your oral appliance helps keep your dental health and function going. Help your appliance continue to do that for the long haul by taking proper care of it.
If you would like more information on how best to maintain your oral appliance, please contact us or schedule an appointment for a consultation. You can also learn more about this topic by reading the Dear Doctor magazine article "10 Tips for Cleaning Your Oral Appliance."
By Carolyn Bronke Wind, DDS, PC
June 10, 2020
Oral cancer is one of the more dangerous malignancies people face. But there are ways you can reduce your risk of this deadly disease through changes in lifestyle habits and behaviors.
Two of the better known behaviors for increased oral cancer risk are immoderate consumption of alcohol and the use of tobacco, particularly chewing tobacco and snuff. Eliminating these, especially the latter, can vastly improve your odds of avoiding cancer. Another factor is a strain of the human papilloma virus (HPV 16) that's transmitted sexually, which you can avoid through safe sex practices.
In addition to these lifestyle changes, there's one more you should make to lower your oral cancer risk: adjustments to your diet. Research over the last half century has provided ample evidence of a link between the foods we eat and our risk of all types of cancers, including oral.
The biggest concern is over certain elements in some foods that can damage DNA, the molecular "operating instructions" that regulate the formation and function of our bodies' cells. These elements are collectively known as carcinogens because of their role in cancer formation.
An example of a carcinogen is a group of chemicals called nitrosamines. These form during preservation processes using nitrites in meats like bacon or ham. They're also found in beer or certain preserved fish. To limit your consumption of nitrosamines, you should reduce these and other processed products and replace them with fresh fruits and vegetables, or organic meats and dairy products.
Our DNA can also be damaged by unstable molecules called free radicals that arise during normal cellular function. But there are also substances known as antioxidants that help protect the cells from free radical damage. Many plant-based foods contain nutrients like vitamins C and E that have antioxidant properties, so including them in your diet could help reduce your oral cancer risk.
Several clinical studies over the years have been consistent in their findings that a diet rich in fresh fruits and vegetables can reduce the risk of oral or throat cancers, as well as other forms of cancer. Making changes to your diet in that direction, plus other lifestyle changes, could help you avoid this devastating oral disease.
If you would like more information on preventing oral cancer, please contact us or schedule an appointment for a consultation. You can also learn more about this topic by reading the Dear Doctor magazine article "Diet and Prevention of Oral Cancer."