Posts for: January, 2021
By Carolyn Bronke Wind, DDS, PC
January 18, 2021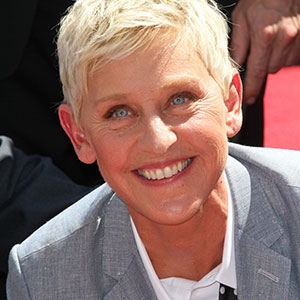 This year's Carol Burnett Award, presented at the Golden Globes, goes to Ellen DeGeneres for her "outstanding contributions to the television medium on or off the screen." This is the latest in a long list of honors for the comedienne, talk show host and activist that includes Emmys, Grammys and Teen Choice Awards. And one not quite as well-known: a 2004 "Flossy" award.
DeGeneres received this honor from the National Flossing Council in recognition of her passionate promotion of oral hygiene, particularly flossing. She wrote about its virtues in her 2003 book, The Funny Thing Is…., saying, among other things, "Don't even think for a second that you can get away with not flossing."
DeGeneres's motivational cheerleading for flossing is helpful and necessary because, well, many of us just don't like doing it. It requires more manual dexterity than its more popular sibling, brushing. And the tendency for the floss to gunk up with plaque residue for some is simply unpleasant.
Mainly, though, many folks think brushing is enough. Not so fast, according to dental professionals. While brushing removes disease-causing bacterial plaque from broad tooth surfaces, it can't effectively get into the spaces between teeth. It takes flossing to clear plaque from these more difficult areas.
But don't fret: There are ways to make flossing an easier—and more pleasant—task.
Ask us for help. As we said before, flossing does take some hand dexterity and coordination to perform. You may also wonder if you're doing it effectively. We can provide training and tips on how to be a more effective flosser at your next visit.
Practice, practice, practice. You probably think nothing of riding a bicycle, and yet it probably took you weeks or months as a kid to become proficient. Similarly, your first attempts at flossing might feel awkward, but you'll improve with practice, so don't give up.
Brush before you floss. Most people floss before brushing, but if you tend to encounter a lot of soft plaque debris that makes flossing "icky" for you, then try brushing first to clear a good portion of it out of the way before you floss. Just be aware, most professionals believe that flossing first is better because it loosens up debris between teeth so the bubbles from the toothpaste can carry it away. But any flossing is better than no flossing!
Try flossing tools. For some people, floss picks, small pre-threaded tools you can use with one hand, seem easier to maneuver than regular floss thread. If you have issues with manual dexterity, an oral irrigator can make the task easier: This handheld device uses a stream of pressurized water to loosen and flush away plaque between teeth.
So, follow Ellen DeGeneres's advice she gave Tulane University graduates during a commencement speech: "Remember to exfoliate, moisturize, exercise…and floss." The latter, along with brushing, will certainly help keep your teeth and gums healthy.
If you would like more information about best oral hygiene practices, please contact us or schedule an appointment. To learn more, read the Dear Doctor magazine article "Daily Oral Hygiene."
By Carolyn Bronke Wind, DDS, PC
January 08, 2021

In the midst of the current global pandemic, we're all focused on staying healthy and avoiding infection. For many, their first thought before resuming any regular activity is, "Will I or my family be safe?"
If you've asked that about visiting the dentist, rest assured, it is. In fact, dentists have been at the forefront in protecting patients from viral and bacterial infections for decades. Here's why you're in safe hands at the dentist's office.
Barrier control. Although we're focused at the moment on Covid-19, there are other pathogens (microorganism that cause disease) for which there has been an ongoing concern among healthcare providers. Many of these like the viruses that cause hepatitis or HIV/AIDS spread through blood-to-blood contact. That's why we routinely use gloves, face shields and other barrier devices, even during routine visits, to prevent bloodborne transmission between patients and staff, or other patients.
Disinfection. Viruses and other pathogens may continue to live on surfaces in treatment areas for various durations. To prevent their transmission to humans, we follow strict procedures for disinfecting all treatment-related surfaces after each patient visit. One-use treatment items are disposed separately from regular waste. Permanent instruments and equipment are cleaned and thoroughly sanitized to the highest standard.
Protocols. There are approximately 170,000 dentists across the U.S., yet each generally follows the same high standards for infection control. Regulating bodies at state levels have made infection control a crucial part of licensing requirements and continuing education, and every dental practice must have an infection control plan they meticulously follow. Because of these strict standards, an infection occurring in a dental office setting is extremely rare.
In addition to these regular procedures, dentists have also added extra safety measures to better address the current crisis, and will continue these until the crisis has abated. Staying knowledgeable and flexible to new challenges is also a feature of dental providers' infection control mission.
If you do have concerns, please feel free to contact us to learn more about the specific measures we have in place to keep patients safe. Protecting you and your family during dental care will always be our top priority.
If you would like more information on patient safety at the dentist's office, please contact us or schedule an appointment for a consultation. You can also learn more about this topic by reading the Dear Doctor magazine article "Infection Control in the Dental Office."